Vermont Overland Maple Adventure Ride
Not a race, but a great early season cycling experience!
This cycling event in and around Woodstock VT is organized by Peter Vollers, who also organizes the Vermont Overland Grand Prix, a Vermont cyclocross bike oriented race you can read about elsewhere on this site. Suffice it to say here that it's a well-organized race that I recommend highly. That was enough to get me to enter the Maple Adventure Ride that is timed to coincide with hopefully somewhat moderate early spring weather and the Vermont Maple Festival. It is a bit of a drive for me, but it had all the ingredients I was looking for at this time of year: beautiful rural scenery, hills, an opportunity to get in some hard training in a non-competitive setting, hills, dirt roads, hills, … you get the picture. So I drove out to Woodstock early Sunday morning, about 2.5 hours from home. The ride started at 11:00, which allowed me to start the trip at a reasonable hour.
I arrived in Woodstock at about 10. It was turning out to be a nice sunny day, chilly, but at least above freezing. There was already a good turnout, probably somewhere between 150 and 200 participants, and a variety of bikes, including fat bikes, cyclocross bikes, and mountain bikes. After waffling over what to ride, I decided to bring my carbon Stumpjumper hardtail because (a) I love that bike, and (b) Peter Vollers had sent out an email earlier suggesting that with the expected conditions that might be the best option. I was not disappointed, though the course was probably just as amenable to a cross bike as things turned out.
As I registered I saw that two other cyclists local to my area had made it as well, Brad and Bret Young, both accomplished cyclocross racers on the NYCROSS team. Although I only rode together with them here and there on the course, it was great to see them and ride with them a bit.
The ride went off at 11:00 sharp, and within 1/4 of a mile we were climbing a long, steep paved hill out of the village, heading south. Not much time to warm up the legs, but the climb did help to forget the chill. Before long the asphalt gave way to dirt. Much of the 25 mile course was on dirt, and we were fortunate to have pretty good road conditions throughout: a bit sloppy and rutted at times, but nothing deep, and very few major potholes. You know you're in for a lot of climbing in this part of the world as soon as you leave the river valley; soon every road was named *something* Hill Rd. The hills here are similar to what we have in our home region of the Southern Adirondacks, but tend to be longer and at least as steep. Coupled with the inch-deep layer of greasy mud on most of the dirt roads, the climbing was a tough workout. There were a couple of hills that had me thankful that I had my hardtail. Many were walking up some of the steepest sections, and I suspect I may have been as well with my cyclocross gearing, but I was able to spin up nicely by using a slightly lower gear.
As advertised, there were a couple of Class 4 (unmaintained) roads on the course. They were covered in snow but it seemed that both had been driven over by the Range Rovers that were providing mobile support on the ride. The first was pretty flat, and I was able to ride all but one spot. The second was downhill, quite slippery and unpredictable in spots, so I ended up either coasting and balancing with at least one foot out, or walking. Both were fun, and the reward at the end of the second was the one rest stop at a maple syrup farm's sugar shack. They had some delicious snacks; I had several maple sugar cookies and a big cup of hot tea sweetened with a little fresh syrup.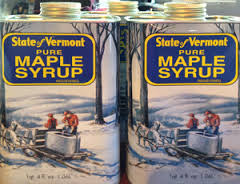 After a brief respite at the sugar shack we were off to finish the ride. Someone had mentioned to me at an early part of the ride that she had heard that the hardest hill was near the end, and sure enough, after a nice long downhill section we were greeted with a sharp turn to the right…and steeply up onto Peterkin Hill Rd. Perhaps feeling a bit refreshed after the maple sugar stop and the ensuing downhill, I stood and powered my way up the first section of the hill. Pretty soon I came around a bend and could see that this was only prelude to an even steeper climb, so I sat down, shifted down, and pedaled hard, once again thankful that I had my hardtail. It's heavier, yes, but I was watching others struggle and walk on their cross bikes. Bret and Brad were just ahead of me, and Bret in particular put out a huge effort on the steepest part of the hill with his 1×10 (or 11) configuration, standing and cranking it out at very slow cadence. I would have been walking at that point had it been me, especially at this time of year when I'm still trying to find out where my cycling legs went over the winter :).
The organizers had posted a sign near the bottom that promised that this was the last hill. Indeed, it was the last big hill, but the couple of small climbs that followed felt a bit bigger than they probably were. Soon, though, it really was "all downhill from there," and we were back in town and at the finish.
It had been an exhilarating ride, and exactly the early season training ride that I had hoped for, with nearly 4,000 feet of climbing in those 25 miles (3740 feet by my GPS). For those of my HRRT teammates who are racing the Tour of the Battenkill in April, that's within 300 feet of the climbing that we'll do in 68 miles in that race.
The bonuses were the lovely scenery along the course, the challenges, and the company of old friends and new sharing the experience.
Now I suppose I need to clean the dried mud off my bike.