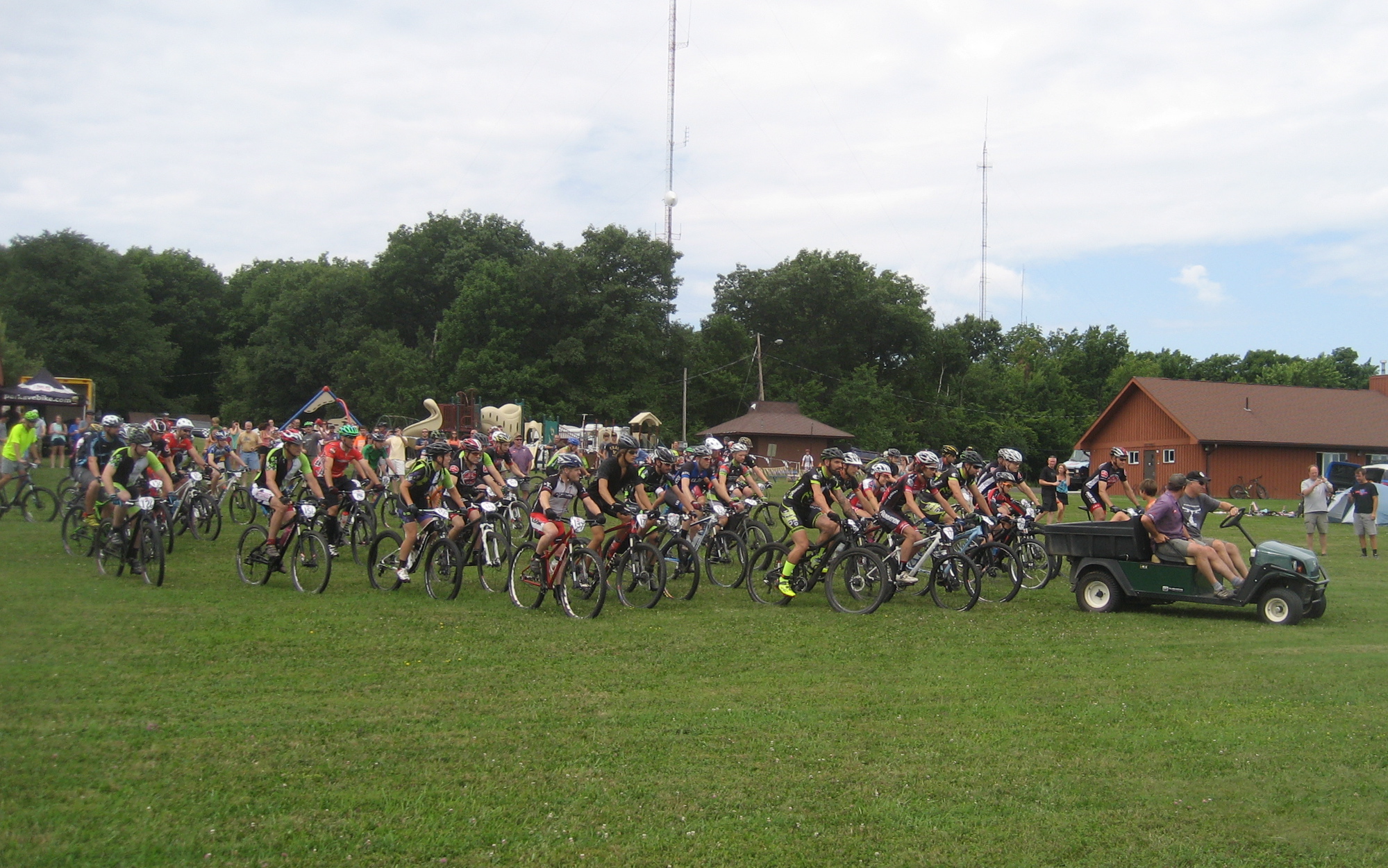 Hardcore 24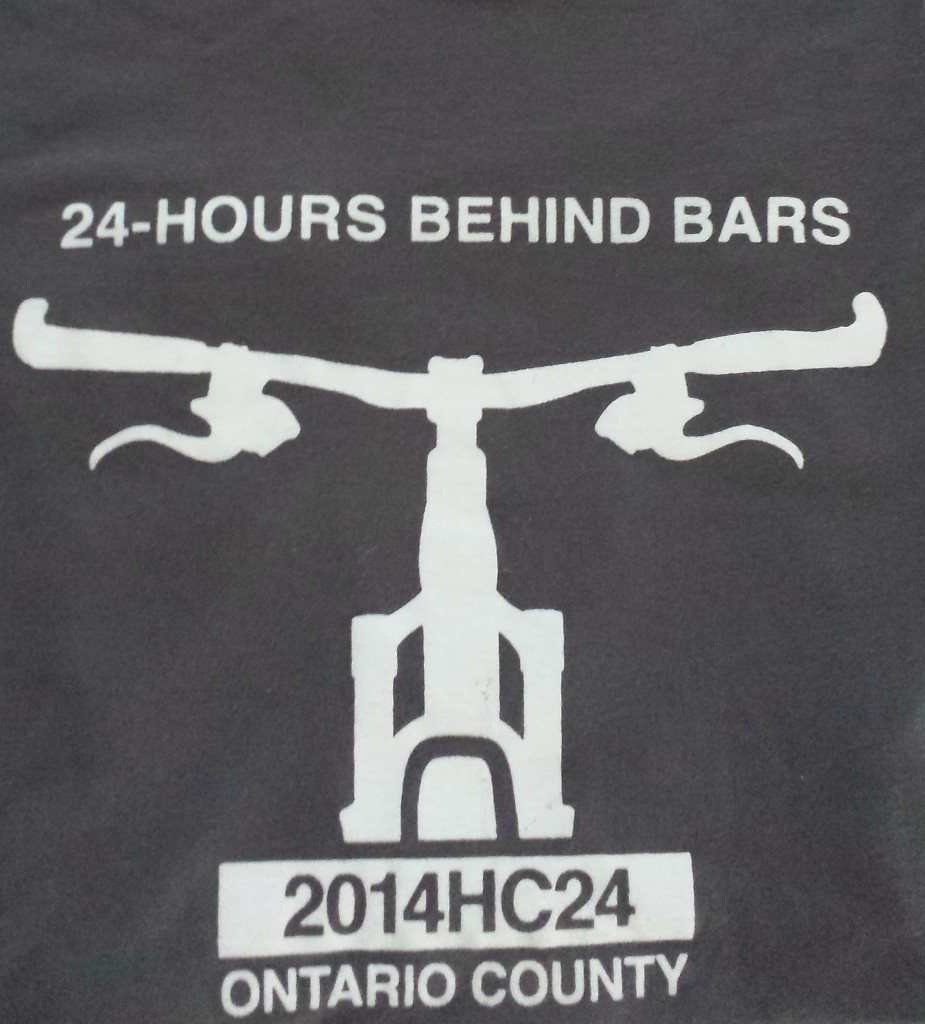 I had heard from others over the past several years what a fun race the Hardcore24 24 hour MTB race was. But I wasn't a mountain biker, so I was satisfied to hear some great stories about it. Last year I finally broke down and started mountain biking, so when friend and HRRT teammate Don Massone invited me to be on a 5 person team for this year's Hardcore 24 in late July, I said "yes" immediately. Of course, as with several other "yes" answers to MTB races, my second thought was "what the hell are you thinking, Jon?" I often don't have a good answer to that question, but it hasn't stopped me  :).
This race is different from any other race I've participated in. It involves camping, bringing all your food for two days, packing clothing for every imaginable weather condition one can think of, racing on a moderately technical trail in the  woods in the dark throughout the night, racing on a tag team, coping with racing on very little (if any) sleep, and more.
Yet, how could I resist a race that the organizers describe as "we were having a party and a bike race broke out"? Where the eve of the race is celebrated with a bike parade and a ride out to the lookout point to watch the sunset? Where the first order of the day upon arrival Friday afternoon is to hang christmas lights in HRRT team colors around our pavilion? And where not only are you surrounded with almost 20 HRRT teammates and friends, but everyone else treats you like a friend both on and off the course? Can you tell I can't wait to do this again next year?
The race  is held in Ontario County Park in Naples, NY. Situated just west of the southern end of Canandaigua Lake , the park contains the highest point in Ontario County. At an elevation of 2,256 feet above sea level, the views from our camping spot were magnificent, as was the view of the sunset to the west from Jumpoff Point, which we visited after a pre-ride of the course that we'd get to know quite well over the next couple of days.
The race started at noon on Saturday.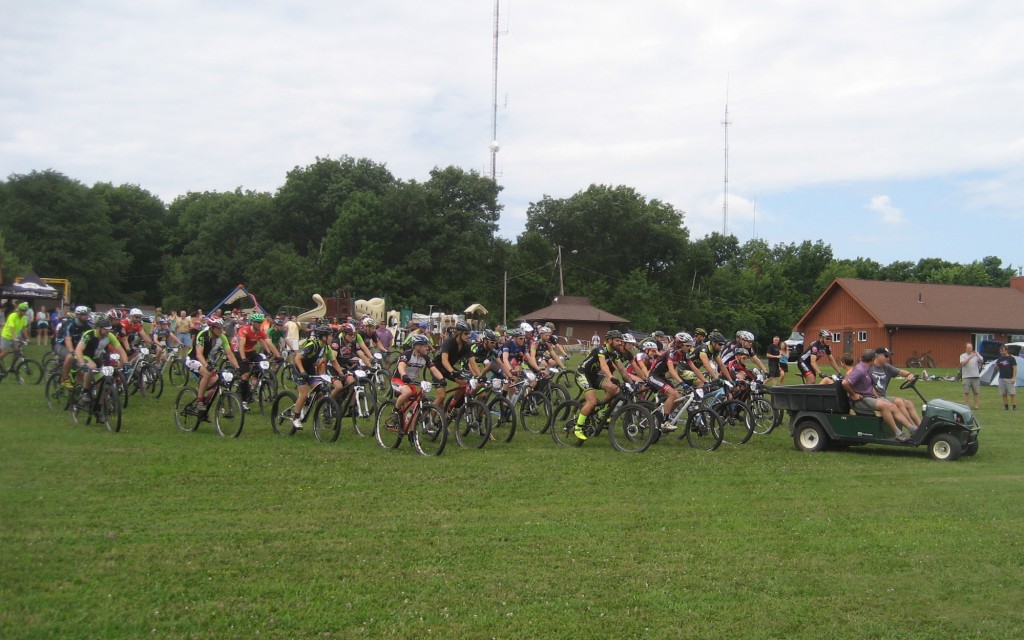 From then until noon on Sunday we rotated laps through our team roster, one lap at a time per person. (HRRT's other 5 person team followed a similar strategy, but changed things up during the late night and early morning, when each person took two laps to allow teammates to get some meaningful sleep. They ended up ahead of us, but I don't think that it was because of that difference.) The course was dry, hilly, and sometimes fairly technical, but not overwhelmingly so. Despite being fairly close to where we live and ride, the terrain was quite a bit different: rockier soil, and more rocks protruding through the ground high enough that you had to watch your pedaling, something that caused me a bit of concern as I anticipated the night laps.
A lap of the course was about 8 miles, and on average took us about 50 minutes to complete during daylight hours, creeping up to about an hour during the night. There were constant threats of big thunderstorms through the night; at several times we could see them in the valleys surrounding us, but we lucked out and stayed dry.
I'd like to mention how impressed I was with my lights: I had purchased a Sigma Evo Pro light set last fall, but had only used it a few times for cyclocross training rides, and had never done a night ride on a mountain bike before this race. Race rules call for a second light as well (makes sense, as you don't want to be that guy whose light quits for some reason with a looming obstacle and/or others in hard pursuit just behind you), so I borrowed a friend's Sigma Karma. I put the brighter (very bright) Evo Pro on my helmet, and the small Karma on the bars, and ran them both together. What a great combination! They both performed admirably, had lots of charge for both of the "dead of night" laps I did (it was very dark with the storm clouds blocking any light from moon or stars). I need to buy a Karma for myself now, it will be a very nice and useful addition to my bike accessories. It's small, light, and still pretty powerful; still, I was happy to have the Evo Pro, which gave me tons of light. One other nice thing to know if you're considering a light purchase is that the cables and batteries are interchangeable for these two. The Karma's battery is smaller, but could be used with the Evo alone for shorter trips and save some weight, and could be a backup battery as well.
By the official end of the race at noon on Sunday, I think all of us were looking a bit bedraggled, and happy to be finished, though there were smiles on every face.  Here's a photo of the podium for the 5 person teams: full of HRRT folks!
This is one race I can't wait to do next year.