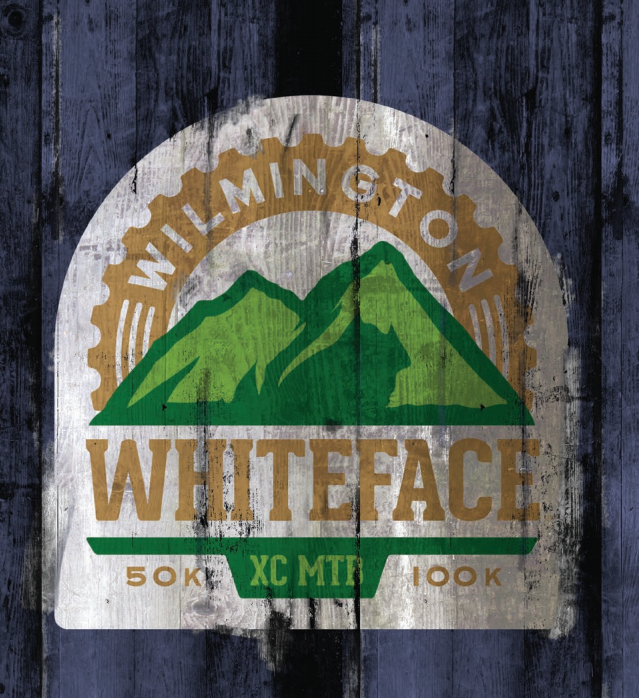 Wilmington – Whiteface 100 (Leadville qualifier)
The Wilmington-Whiteface 100k is put on by Life Time Fitness, which runs the Leadville 100 MTB Race. In addition to being a challenging and interesting race, it is one of several races around the country that serve as qualifying races for the Leadville 100. The course was designed by multiple Leadville 100 winner Dave Weins, who had said that it is the closest of the qualifiers to the experience of Leadville.
As a result, the race attracts people from all over North America, including several past Leadville champions.
The WW100 throws a bit of everything at competitors: a fast start on pavement, long climbs and descents on dirt roads and jeep trails, several singletrack sections, you name it! It's an out – and – back course with a nice singletrack section at the furthest point, another about 80% of the way back, and a final, challenging section back at the Whiteface Resort that is prefaced by some steep climbing on the mountain and repeated just before the finish.
This was my second year of racing the WW100. Last year it was my second MTB race ever, and the primary race I used as preparation for the Leadville 100 MTB race. I finished in 6 hours 19 minutes last year; my goal this year was to improve my performance on the singletrack sections significantly.
As race day approached I hadn't had the time to pre-ride the course at all (unlike 2013, when I rode the entire course twice, and key sections even more). The very long winter, coupled with other training priorities and the difficulty of making a trip up to Lake Placid, kept me closer to home, where I tried to hone my singletrack skills a bit.
Race day this year was very different in its challenges from 2013. Last year the weather had been wet in the week preceding the race, leaving the surface conditions firm and relatively smooth, though there were big, deep puddles and waterbars in sections of the trek over Jay Mountain.  The singletrack was increasingly muddy and slick as rain fell during the race. This year's course was quite dry, providing a different set of challenges: the dirt road sections were often fairly deep in loose sand, making for hard work to generate a fast ride, and the occasional surprise on  fast descents. For me, at least, the heat was also a draining factor this year.
I found my way to the starting line early. Though with a bit less endurance training than I would have hoped for, I was fit, stocked up with GU  and GU Roctane gels, my Polar bottles filled, and  plenty of solid nutrition to get me though to the final aid station, my only planned stop.
The race starts with a gunshot at the Whiteface Resort on the bridge over the Ausable River. There's a short climb out on pavement, then several fast miles leading to a steep dirt road climb and descent. That climb can be a shock, but it pales in comparison to what's still to come. The next challenge is a long paved climb that marks the beginning of the Jay Mountain section. The climb on the way out on Jay Mountain Rd. has its occasional challenges, but it's not too daunting, and is followed by a long, fast descent, largely on a rough, loose  seasonal use road. Even though I had gotten a lot more comfortable with descents like this since last year's race, I was still passed by a few other racers on this section. Clearly either I need more work on this or the guys that passed me are just crazy (probably both). At the bottom of the descent down the back side of Jay Mountain is the first section of singletrack, part of the Blueberry Hill trail system just outside of Elizabethtown. It's challenging mostly in that there are some steep climbs in there; nothing too serious, but overall it's very flowy with some nice downhills. When you're spit back out onto a paved road, you're slightly more than halfway done with the race in terms of miles, though not in time.  Very shortly it's a slight left onto Blood Hill Rd. and the climbing begins. There's about 8 miles of almost relentless climbing back up Jay Mountain, with every steep section preceding an even steeper section just around the bend in the latter parts of the climb. With the surface dry, loos, and sand this year this climb was especially punishing! The descent back down to Rte. 9 provides some time to recover, then there's another tough dirt climb up to Bartlett Rd. It's only when you're almost all the way back to Whiteface that you get more singletrack, the Hardy Rd. section. This is some of the nicest singletrack riding I've experienced, and this year I was fast enough on it that no one passed me. Lots of fun in here, and it was dry and fast this year.  I was feeling the heat by the time I exited the Hardy trails. Next up was the Flume Trail, a nice section of single and double track trails, a brutal bit of climbing on Whiteface itself, then a short but tough section of singletrack that drops you out right at the finish line. But you're not done yet: another loop through the last climb and singletrack and then on through the actual finish.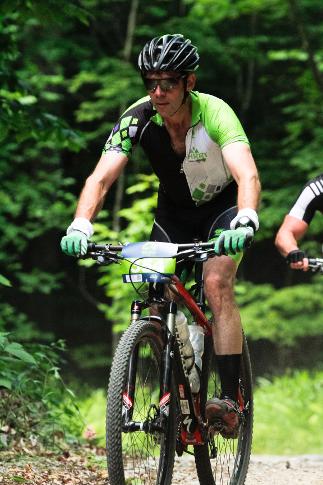 Last year, partly because of my being a novice mountain biker and partly because of the rainy, muddy conditions, I spent a lot of time off the bike in that last section. This year, with more miles of MTB experience and the benefit of pre-riding that last section of singletrack the night before the race, I was able to take over 10 minutes off my 2013 time. I had been hoping for even more improvement, but was satisfied that I had done my best given the conditions and that I had met my objective of significantly improving my performance on the singletrack sections. I'm already looking forward to next year's Wilmington-Whiteface 100!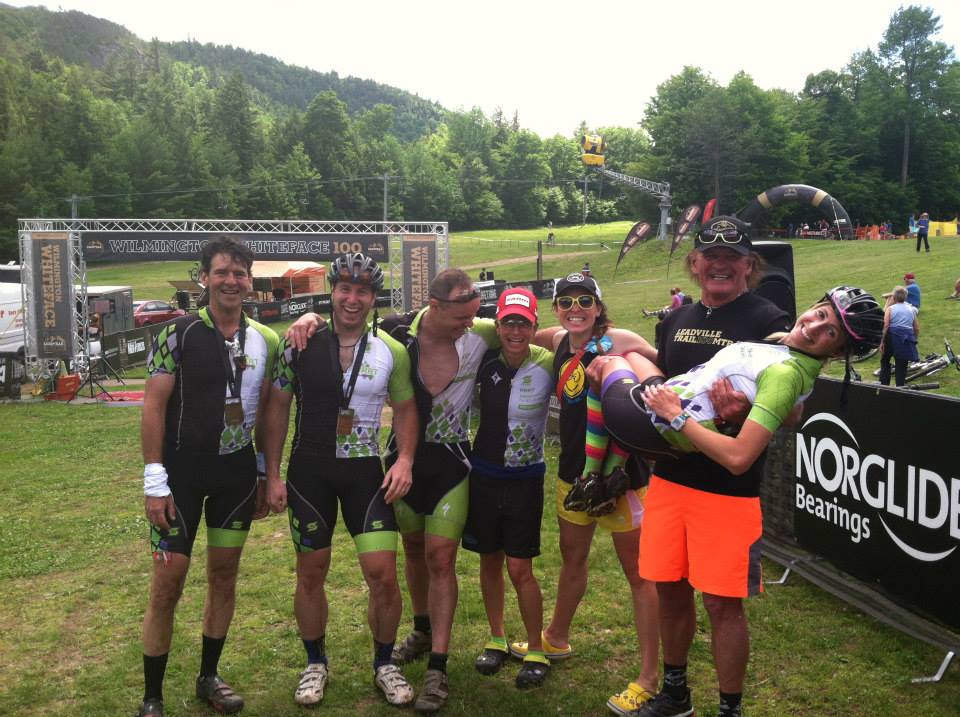 At the finish with some of my HRRT teammates and Ken Chlouber, the man behind the Leadville 100 events. (L-R: me, Dustin DeLuke, Bob Frank, Stephanie Landy, Sheray Tario, Ken Chlouber, and Amanda DeLuke).