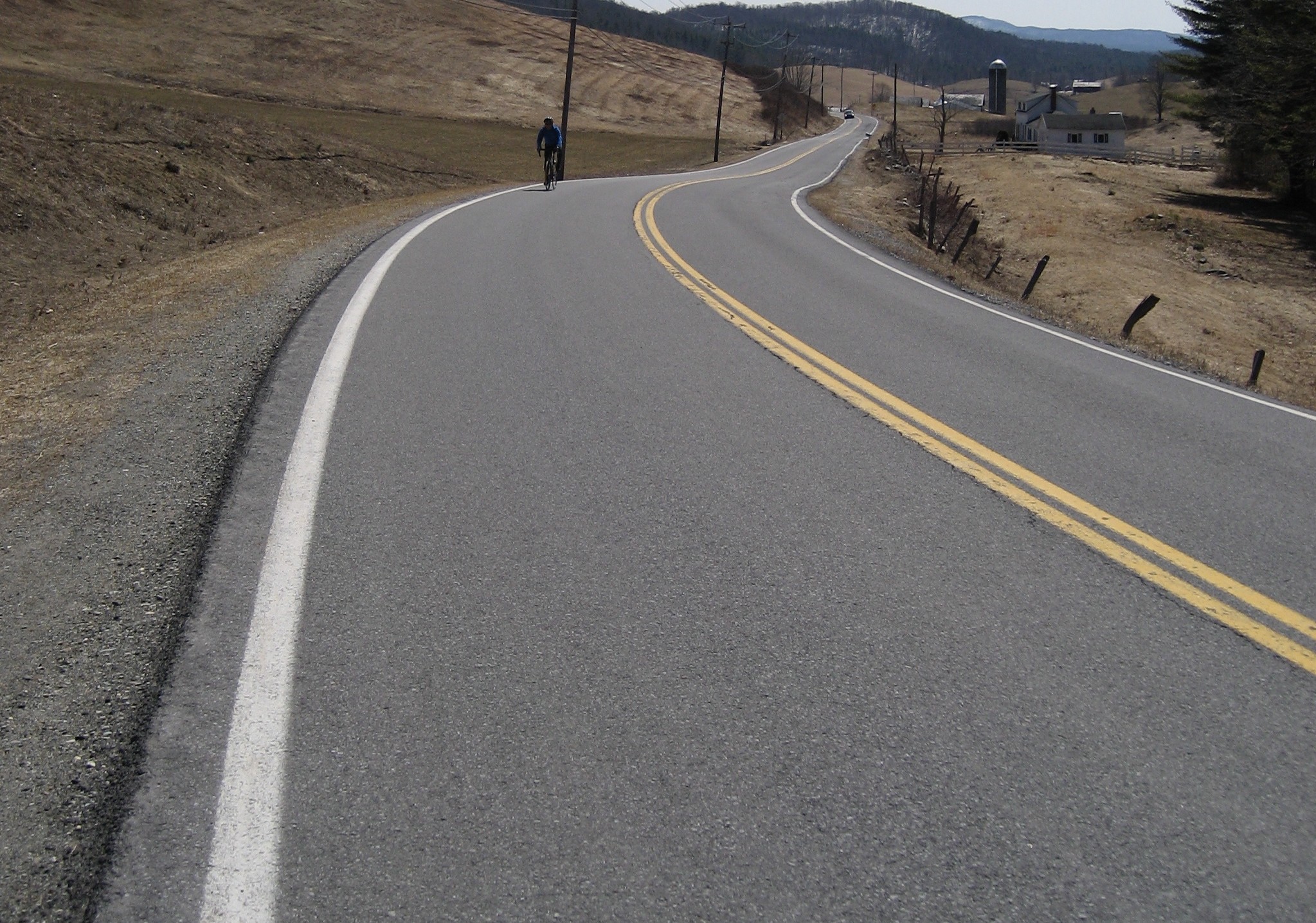 Preparing for the Long Ride
Prefatory Notes:
These notes were assembled for a talk I gave  at Blue Sky Bicycles in Saratoga Springs, NY, on May 8, 2014. The audience  consisted of people who were either interested in tackling their first "long ride," perhaps a Century Ride of ~100 miles, and people with experience who were either seeking some new tips, or were considering going even longer. We had a good, highly interactive session; there were a couple of things I skimmed over as it was getting late, and some references that I promised to provide, so I'm sharing the information below.
In sharing this, there's a prerequisite that's assumed, that being that you're basically healthy and have been cycling at least short distances for a while, you can ride safely on the roads, and that you have no health or other issues that would preclude your engaging in endurance events. Assuming that, you should be able to ride long distances, including a century, with a little as 2-3 months of focused training.
Also, please keep in mind that what works for someone else may not work for you. Hopefully, the information below will help smooth your path on long cycling rides; ultimately, it is your own analysis and experience that will get you to what works best for you.
It will be helpful to break your preparation for a successful long ride (I'll assume subsequently that this is a Century, but the matter should apply equally to other distances as well) into 4 phases. These phases are Planning, Preparation, Execution, and Recovery. We'll explore each of these in more detail below.
Planning
In which we commit to undertake the challenge, choose a ride type and a particular ride. We are very lucky to live in an area where there is a robust cycling community and a number of organized rides throughout the season, and to have easy access to an abundance of beautiful land to ride on. Factors to consider if this is a new distance to you, e.g., your first Century Ride:
Organized rides often provide support during the event, pre-ride the courses to ensure that roads are open and safe, etc.
A race or unsupported ride is probably not the best way to undertake your first attempt at a long distance.
When pedaling, one quickly realizes that not all miles are created equal. A fairly flat course is usually the right choice for a first century.
A sampling of long ride possibilities in and around the NY Capital Region: Road
MHCC runs a Century Weekend early each September from Saratoga Spa State Park, with multiple distances up to 100 miles.
HRRT runs a number of century and shorter rides throughout the season, including a Century of the Month Challenge and a Half Century of the Month Challenge.
There is an increasing number of Gran Fondos in our area as well, including during Battenkill weekend, Tour of the Catskills, and Rensselaerville this year, each with a selection of distances.
John Ceceri organizes Century and longer rides
We have some great long distance races as well.
You may also decide to forego the organized ride and go unsupported. I have contributed a number of long courses on ridewithgps.com, and there are many others as well.
Off Road
These are just a few, in our immediate area. There's a lot more available, too! Adirondack Sports and Fitness is a good resource for ideas in the area, and Bicycling magazine profiles a few prominent events outside our area, too. And on the mountain biking side, there's the Leadville Trail 100 MTB race, definitely a bucket list event if you're into endurance!
Preparation
In which the real meat of the matter occurs! Once you've decided on an event, distance, and possibly a time goal, it's time to start training. We won't go into this in much detail today, but there are many decent training plans available at no charge online  for first time century riders. Active.com and Bicycling.com are both good sources. There is a lot more to do in this period than just riding your bike 3+ times a week, though. Cross-training can be very helpful on non-cycling days, both in terms of fitness and of avoiding injury from overtraining. Now is also the time to nail down nutrition, learn new skills if you need them, prepare your body, determine clothing, get your bike in shape, and hone your mental game. Let's look at these in turn.
Nutrition
The quality of your diet in the months leading up to your event is important, but we'll assume for now that you're eating a healthy diet. Endurance events of every kind make big demands on your body, and how well prepared you are for that can make the difference between success and failure. The preparation phase is the time to personalize your event day's nutrition choices! Your long rides in the training plan are field experiments in determining what works best for you. When and what you eat and drink on the ride is vitally important, and tends to be highly personal as well. Here are some tips:
Eat a moderate dinner the night before. No need to gorge yourself on carbs.
Eat a filling breakfast ~3 hours before the start. It should contain some protein and whole foods that keep you full for a long time. My go-to race day breakfast is fresh (real) oatmeal with fresh blueberries, nuts, cinnamon, almond milk and Greek yogurt. Here's the full recipe. There are lots of other options as well, but give this a try.
During the ride, rely on easily digestible foods. Gels and energy bars are the traditional staple; they're designed to be easy to digest. Over the past several years, I've started focusing more on balancing these with "real food" like roasted new potatoes, homemade rice cakes, homemade energy bars, etc. There is a good book published recently to help you get started with portable whole food nutrition designed for endurance athletes: Feed Zone Portables: A Cookbook of On-the-Go Food for Athletes (The Feed Zone)
Hydration should consist of an electrolyte mix that works for you in volume. That is, don't assume that just because you go through a bottle of electrolyte mix on a medium ride that it will work for you when you're out there for 100 miles.
You should start drinking earlier than you might think, and need to stay on top of both food and drink throughout the ride. There's some very good information in this recent article.
Clothing
It can be a challenge to find clothing that will still be comfortable for you in the later miles of a long ride. Of particular importance are your shorts and your shoes. Those little annoyances that you feel in a 30 mile ride but can manage to ignore are likely to become agonizing in a 100 mile ride. Sometimes the damage can last a long time, too. Some tips:
buy high quality shorts or bibs. More padding isn't necessarily better. Often, a thinner chamois pad that fits you well will be better for you than a plush pad.
Work with an expert to find shoes that will take you through the day in comfort.
Cleats, and their position on the shoe can make a big difference.
Pay attention in your training to how your hands feel as the miles add up. You may need different gloves, new bar tape, or a fit adjustment.
Even if you ride starts out in good weather, on some days your ride may be long enough that you get caught in a rainstorm. It's a good idea to do a couple of training rides in your rain jacket. Same is true for arm warmers and leg warmers if you think you may need those.
Chamois cream: if you think you might need it or want to try it, do it during your training. Same goes for embrocation.
Sports ID
The Bike
A clean bike is a happy bike. Taking the time to clean your bike will increase the likelihood that you'll find incipient problems.
Learn to perform basic on-the road maintenance.
Have a good mechanic go over your bike a couple of weeks before your event.
If you're concerned about comfort on the bike, consider having a fitting. They range in price from about $50 to several hundred, depending on how sophisticated a process you want. For first time distance cyclists, the lower end of the range is usually fine.
As you work your way up to your goal distance you may learn things about your saddle that you will wish you hadn't. I've played with various saddles over the years, and have reached the point where I think that it's pretty easy for me to find a saddle that feels good for 75 miles or so, but I've never found one that's comfortable beyond that.  Let me know if you find a saddle where your seat feels great after 100 miles, I'd be interested!
Skills
Get comfortable riding with groups, in a paceline if you can
Learn to grab your water bottle, drink, and replace it on the go without looking down.
If you'll be racing, you may want to practice putting on and taking off your rain jacket while you're riding. It's a good skill to have, when you're racing in changeable weather. Be careful, though, it's not an easy task, and there are moments where you're vulnerable if anything goes wrong.
The Mental Side of Things
This is a large topic by itself, too big to cover here, but we can at least provide a couple of tips:
If you are new to endurance events, it's almost certain that you'll make the mistake of going out too fast at the start. You've trained well, you're fit for the distance, and you feel great. You start out cycling at a speed that feels moderately hard, but good, like you could keep it up all day. There's a good chance you can't. Slow down a bit for a while, you'll appreciate having the energy in reserve toward the end of the ride. The worst that can happen using this strategy is that you take longer than you expected but finish feeling strong. Now you know that you could have gone faster, and will adjust next time. That's highly preferable to knowing that you went out way too fast, suffering a lot toward the end and perhaps not finishing at all.  Of course, if you're like many (most?) of us, you'll go out too fast anyway with the excitement of the day and learn this lesson the hard way :).
Endurance activities are in part about managing suffering. That's especially true if you're competing, but even in a casual distance ride, at some point you're probably going to feel like stopping.  A lot like stopping! How you handle that is important to your success.
You'll almost certainly hit a point where you lose your focus, too. You'll have slowed down a bit, even though you don't feel particularly fatigued. This typically happens somewhere in the second third of your ride. Try to notice that early on your long training rides and snap yourself back to attention. The more you can develop your attentiveness to your current state and push yourself through the tough moments, the better your experience will be.
You'll probably feel stronger in the last few miles again, too. The finish has a gravitational pull: the closer you get, the stronger it is.
It is also important to understand the mental side of physical setbacks.
During the clinic I circulated several books that I think do well at discussing mental aspect of training for endurance  events.  None of these is cycling-specific, but if you read them I think your cycling training may benefit greatly.  Make a point of reading at least one of  these. I'd pick one of the first two myself, but all three of them are interesting and thought provoking. Here are the links to these books at Amazon:
While I'm on the topic of books, there are a couple that I have found particularly inspirational. I've also recommended both of these books to non-athletes, all of whom have enjoyed them.
The Event (and the Days Leading to it)
(In which all the stuff we did in preparation results in a solid plan for success and the training to implement it with confidence!)
Eating well, and getting enough good sleep is especially important now.
Build a checklist for the event. There's a good race checklist on the Training Peaks site; it's a starting point for you, you'll probably want to personalize it.
Decide on your attire,  nutrition choices, etc. and stick with them.
Last check on bike, including lubing your chain and checking air pressure.
Health reality check: it's very tough to skip or postpone your target event because of a nagging but not debilitating injury, but if you have a minor injury that could be exacerbated by participating and cause you the rest of the season, it's usually the right thing to do.
Know the route, at least by having read through the cue sheet and looked at it on the map.
Know the location of aid stations, or local markets where you can refuel if it's not an organized ride. I try to bring enough nutrition to last the entire ride if I need to.
Have your bike's saddle bag pre-packed and ready to go. It should contain at least:

CO2 pump
2 CO2 cartridges
spare tube
patches
multi-tool
tire lever(s)
mini-pump

Pack emergency money, cue sheet, and your cell phone in a ziploc bag to be carried in your jersey.
Gather all registration and other materials for the event
Allow enough time to get to the event site at least an hour before the start
Consume a gel about 15 minutes before the start
Once you're underway, you'll probably feel strong and energized for a while. Moderate yourself. Think of that energy as a car with a full gas tank: if you floor it now, it will run empty before you reach your destination. The custom among cyclists is that in most situations, helping a cyclist in need trumps everything else. So if you are competent at fixing flats, help another with their flat, if another is injured in a crash, call for help and stay with them until help arrives. You'd want the same for yourself, and someday you're likely to need it. No personal goal you had set for yourself is more important. Especially for first-timers: have a generous schedule, take breaks when you want to, and above all, enjoy the ride! I would recommend, though, that you not hang out for too long at the aid stations, your legs may start to stiffen up after about 10 minutes.
Recovery
Once you've made it back, get out of your cycling kit and into street clothes before too long. Relax, celebrate, have some real food, (preferably with some protein to start building muscle), hopefully with some of the friends you've made along the ride. In the week or so after the event, continue to cycle on the same schedule as you did leading up to it, but dial back the mileage and substitute moderate and easy rides for any speed work you had done in training. Doing so will keep up the fitness you've built, while allowing your body to recover.
Conclusions
Thanks for participating in this clinic. I hope it was helpful to you in your pursuit of new distance and performance objectives in cycling. Please ask any questions in the comments section below, and I'll try to help.   Jon